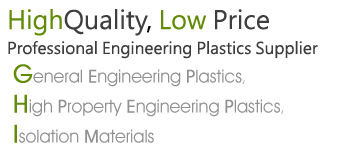 Engineering plastics are developed to offer metal materials such as continuous impact property, corrosion resistance, noise prevention, dielectric strength, presentable texture and light weight. More and more engineering plastics for industrial machines in recent years have led to significant cost reduction. The price of engineering plastics in unit volume is lower than stainless steel, bronze and aluminum. With the comparatively same or lower costs, engineering plastics offer manufacturers another option for materials, which feature superior properties to those of metals and can be used in large quantities.

 Hwa Yu Plastic Co., LTD. was founded in the central Taiwan and has upheld the principle of "Excellent Quality at Reasonable Price". In the past few years, Hwa Yu has increased investment in building a logistics center in order to ensure stable product supply, unify warehouse management and greatly improve the shipment efficiency. The enhancement has also laid a solid foundation for the company to market its products around the world. Hwa Yu has also set high standards in personnel recruitment and comprehensive employee trainings, making the company stand out in the industry with its highly professional staff and highly recommended service quality.

 HWA YU is a manufacturer and processor of engineering plastic, PVC, PET, TPE and PE etc. It is mainly engaged in all kinds of engineering plastic productions and processes for machine parts with sophisticated experience at material supply, product control, finish control, purpose analysis, precision equipment application, vocational training, pre & after-sales and plastic.